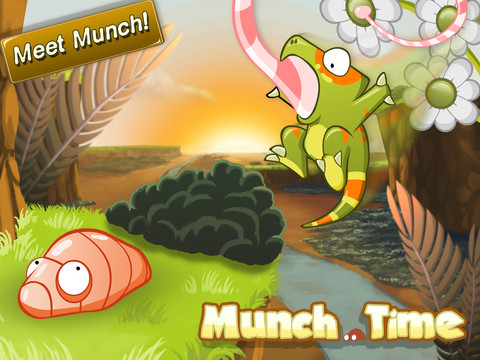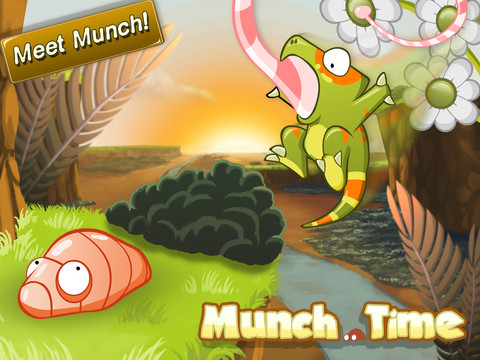 L'articolo di oggi è dedicato a tutti coloro, e sono tanti, che amano i giochi basati sulla fisica in cui bisogna risolvere dei puzzle per completare i livelli, in una parola i giochi in stile Cut the Rope.
Andiamo infatti a descrivere Munch Time, un simpatico gioco in cui dovremo riuscire a nutrire un piccol camaleonte facendogli raggiungere il proprio obiettivo, ovvero il vermicello che lui vuol mangiare e che spesso si troverà a molta distanza da lui, solitamente dall'altra parte del livello.
Ma naturalmente il nostro amico avrà come arma principale la sua lingua, che gli permetterà di attaccarsi e dondolarsi ai vari fiori presenti per il livello al fine di raggiungere punti sempre più alti dello stesso, a volte anche con l'ausilio di oggetti sparsi per il livello come dei piccoli cannoni che lo proietteranno sempre più in alto.
In pieno stile Cut the Rope, inoltre, dovremo cercare di prendere le tre stelle sparse per ogni livello, cosa che rende non poco più difficile il completamento dello stesso, visto che spesso il nostro obiettivo sarà giusto davanti a noi ma il divertimento è dato proprio dalla ricerca delle tre stelle.
Il gioco, dalla fisica ben fatta, è scaricabile da App Store.
App non trovata! Probabilmente è stata rimossa dall'App Store.