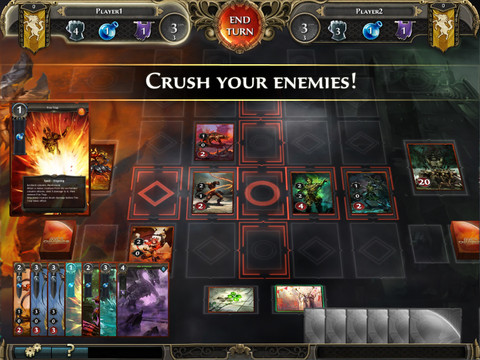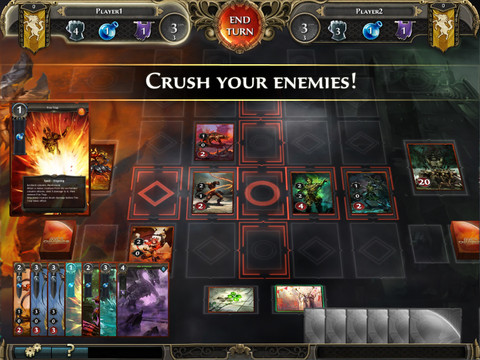 Molto atteso fin dal suo annuncio ad inizio 2012, tutti gli appassionati di carte hanno tenuto "le orecchie alzate" per avere notizie e finalmente provare con mano quello che può essere definito il Magic the Gathering digitale, edito da Ubisoft, disponibile in beta da tempo su PC, da qualche settimana su iPad e che permette anche partite cross-piattaforma. Ma che cosa ha di particolare questo gioco?
Innanzitutto, il titolo può essere scaricato gratuitamente e richiede un account Uplay per giocare, ergo è necessaria una connessione ad internet per giocare anche quando facciamo partite in singolo (ad esempio quelle di tutorial); naturalmente il gioco si basa quasi esclusivamente sul comparto multiplayer che ci porterà a sfidare i vari giocatori nel mondo e, di conseguenza, ad acquistare vari pacchetti di carte aggiuntive per migliorare il nostro mazzo e vincere quante più partite possibile, fattore che ci permetterà di acquistare ancora pacchetti e così via.
Le regole sono ovviamente diverse dal classico Magic: vi invitiamo a scoprirle all'inizio del gioco, ma possiamo dirvi che il gioco risulta più "strategico-tattico" rispetto ad altri giochi di carte, con le creature che potranno far parte delle prime file e della retroguardia, una carta eroe (che saremmo noi) con lo scopo di controllare il proprio esercito e una serie di carte fortuna che potranno cambiare le sorti delle partite, comunque mai troppo lunghe ed adatte anche a chi ha poco tempo.
Insomma, Might and Magic: Duel of Champions è un gioco da provare, un piccolo mondo da scoprire, in particolare se siete amanti della serie (Heroes of) Might and Magic, da cui le carte riprendono molto, e di questo genere di giochi, anche in formato cartaceo. Il download è disponibile gratuitamente tramite il link sottostante.
App non trovata! Probabilmente è stata rimossa dall'App Store.