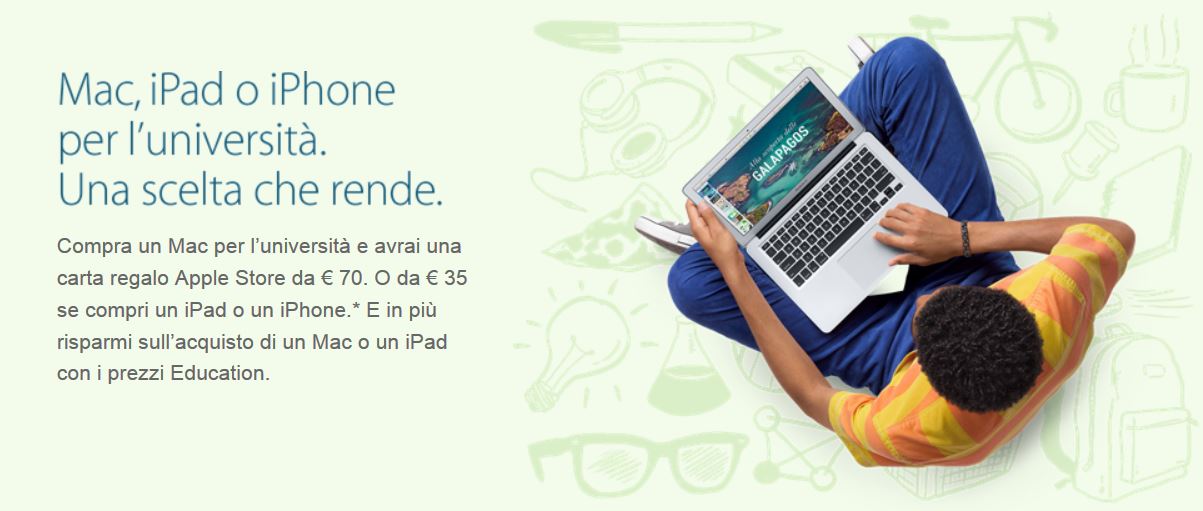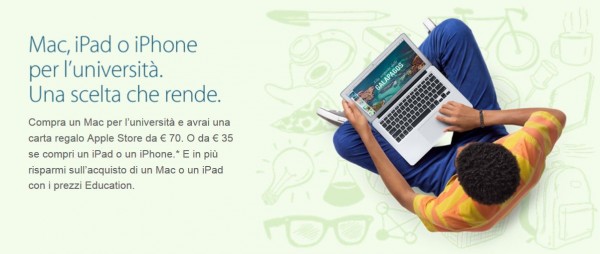 Come ogni anno, Apple ha attivato sul proprio sito ufficiale il programma Back to School, attraverso il quale gli studenti universitari hanno la possibilità di acquistare a prezzi scontati i computer Mac e i tablet iPad. Dopo il salto, tutti i dettagli a riguardo!
La presentazione dell'offerta Apple Back to School 2014 sul sito ufficiale della compagnia statunitense è chiarissima:
"Mac, iPad o iPhone per l'università. Una scelta che rende.
Compra un Mac per l'università e avrai una carta regalo Apple Store da € 70. O da € 35 se compri un iPad o un iPhone. E in più risparmi sull'acquisto di un Mac o un iPad con i prezzi Education."
In poche parole, non solo vengono applicati degli sconti agli studenti universitari nel caso di un acquisto di un Mac o iPad, ma vengono anche regalate delle gift-card Apple Store (70 euro in caso di acquisto di un Mac, 35 euro se si compra un iPad), da spendere come meglio crediamo. E non è finita qui.
Il programma promozionale Apple Back to School 2014 prevede anche degli sconti Education pari al 6-10 % (dipende da prodotto a prodotto) sui vari modelli di computer Mac e iPhone. Come sottolinea il sito italiano, con tali sconti è possibile risparmiare fino a 209 euro su un nuovo computer Mac, oppure fino a 38 euro su un nuovo tablet iPad. Lo sconto Education è applicabile soltanto sugli studenti che frequentano o sono iscritti all'università, genitori che acquistano per i figli iscritti all'università, insegnanti e personale di scuole e università.
Come lo scorso anno, non ci sono sconti Education per quanto riguarda l'iPhone, ma è una cosa che non deve sorprendere troppo, visto che il melafonino (così come qualsiasi altro smartphone) non può essere considerato un vero strumento per lo studio.
[Via]