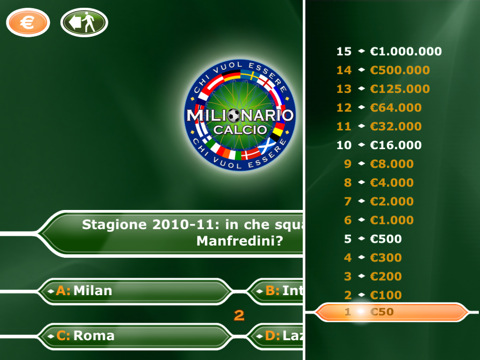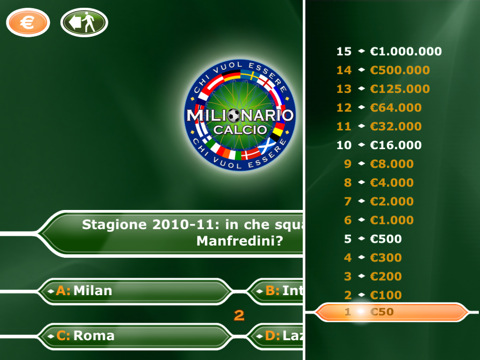 Who Wants To Be a Millionaire è un format televisivo che ha fatto le fortuna di mezzo mondo, seguito dagli Stati Uniti all'India, passando ovviamente per il Bel Paese dove è più conosciuto con il nome di Chi Vuol Essere Milionario ed è subito riconducibile al faccione di Gerry Scotti.
Dalla trasmissione sono stati tratti videogiochi per tutte le piattaforme, in quanto il concept di quiz a premi bene si presta ad essere giocato su iPhone come su PC, su iPad come su PlayStation, magari in compagnia di amici o parenti per una serata all'insegna del "le so tutte io".
In Italia però, oltre ai quiz a premi abbiamo anche un'altra grande passione: il calcio. E quando i due interessi si intrecciano nasce Chi Vuol Essere Milionario Calcio? HD, applicazione ottimizzata per iPad che propone una versione alternativa del gioco, basata esclusivamente su domande calcistiche.
Per raggiungere quota 1 milione di euro occorrerà rispondere alle canoniche 15 domande, questa volta su tematiche a voi più care come le competizione europee (Champions League e Europa League), i campionati stranieri e la Serie A italiana, i Mondiali, ma anche regole di gioco e calciatori.
Come sempre potrete contare sulla telefonata a casa, l'aiuto del pubblico e l'indispensabile 50% – 50%.
Chi Vuol Essere Milionario Calcio? HD è compatibile esclusivamente per iPad e può essere acquistato nell'App Store.
Scommettiamo che questa volta la scalata sarà meno dura?
App non trovata! Probabilmente è stata rimossa dall'App Store.