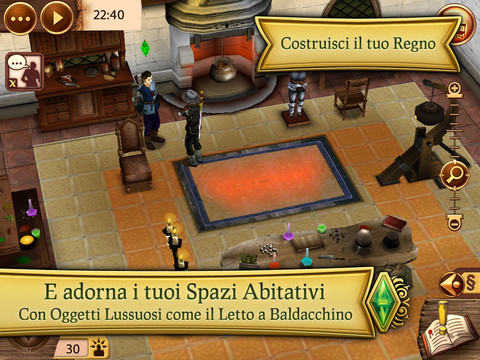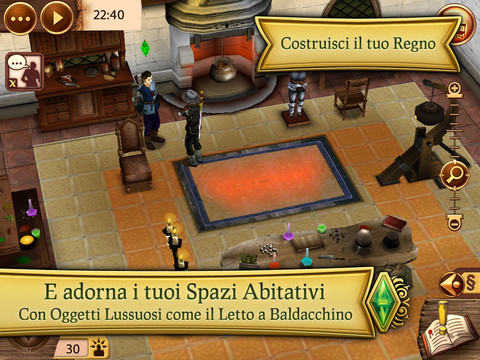 Uno dei giochi più conosciuti per PC, specialmente negli scorsi anni, è sicuramente The Sims, un titolo nel quale il giocatore è chiamato a controllare un personaggio da lui creato e personalizzato in tutto e per tutto per decidere ogni aspetto della sua vita in un mondo virtuale.
Circa un anno fa è uscito un capitolo ambientato nel medioevo, che ha conosciuto non poco successo tra i fan della saga, tanto che EA ha deciso di crearne una versione iOS, per lungo tempo ottimizzata solamente con iPhone e che da oggi, finalmente arriva su iPad.
In The Sims Medieval saremo chiamati a controllare un personaggio da noi creato, avendo la possibilità di decidere tutti gli aspetti della sua vita nella cittadina medioevale che ci troveremo a vivere giorno per giorno. Potremo diventare abili guerrieri, erboristi, spadaccini, ladri, in base alle richieste che i nostri compaesani ci rivolgeranno, ed inoltre potremo accedere ad alcuni minigiochi come pescare o sfidare a combattimento a mani nude od armati gli altri cittadini, magari per contenderci una donna da sposare.
In tutto questo non dovremo dimenticare che il nostro protagonista dovrà mangiare, divertirsi dormire… Insomma avremo una vera e propria vita virtuale in questo bellissimo titolo scaricabile da App Store.
App non trovata! Probabilmente è stata rimossa dall'App Store.