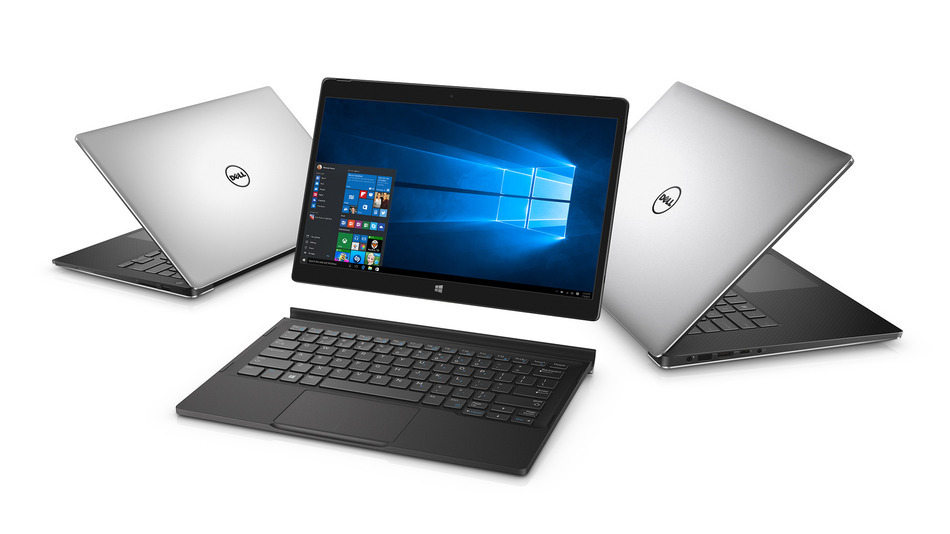 Three Dell XPS notebook computers arranged in a semi-circle. An XPS 13 (Model 9350, Dino 2 XPS) is on the far left, open 45 degrees facing back left. An XPS 12 (Model 9250) 2-in-1 (Veneno), is in the middle, with the tablet screen hovering above a keyboard attachment and the XPS 15 (Model 9550, Berlinetta XPS) is on the right, open 45 degrees facing back right.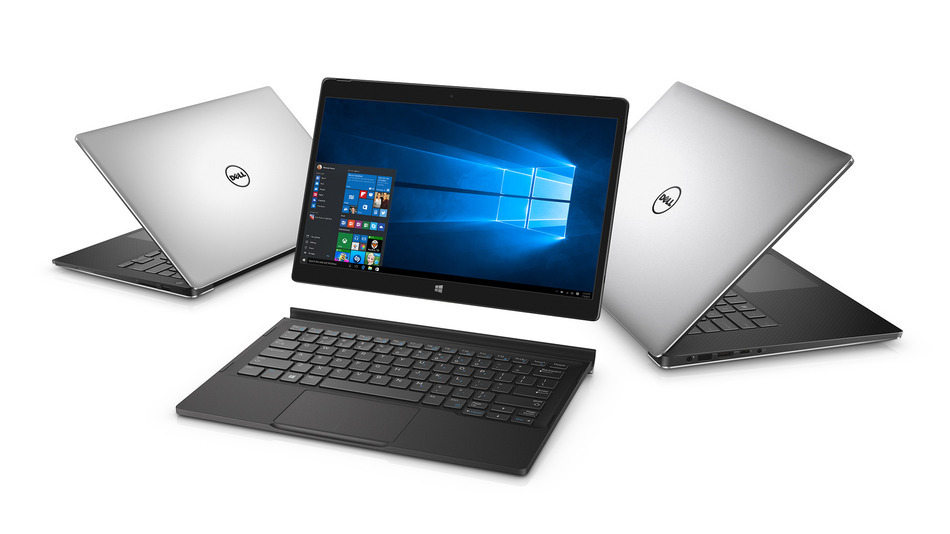 Dell XPS 12 è il nome del nuovo tablet ibrido della nota casa statunitense ed equipaggiato nativamente con il sistema operativo Windows 10. Vediamo di scoprire insieme in questa anteprima tutti i dettagli sulle sue caratteristiche tecniche, il prezzo e l'uscita in Italia.
Come da rumors, ci troviamo di fronte ad un tablet ibrido, e non un notebook "convertibile". Qual è la differenza? È molto semplice: tutto l'hardware è presente all'interno del tablet, e la docking station con tastiera fisica serve a migliorare la digitazione dei testi, non c'è alcun hardware aggiuntivo al suo interno. In dettaglio, la tastiera dock si aggancia al tablet in maniera magnetica, inserendosi con un angolo di 90 gradi, e per rimuovere il tablet basta sollevarlo con forza. La tastiera è di tipo QWERTY con una distanza di 1.9mm tra i tasti ad isola, e il Precision Touchpad permette di controllare per bene il puntatore del mouse. I giornalisti che hanno avuto modo di provare in anteprima il device confermano la bontà della tastiera dock.
Il nuovo Dell XPS 12 arriverà in Italia entro la fine dell'anno, e sappiamo già che negli USA il prezzo del modello base è pari a 999 dollari. La versione entry-level è provvista di 128 GB di storage flash, 8 GB di memoria RAM e un display FullHD con risoluzione di 1920 x 1080 pixel e diagonale di 12 pollici. Il modello più costoso da 1299 dollari ha invece 8 GB di RAM, 256 GB di storage flash e un display 4K da 3840 x 2160 pixel.
Entrambe le versioni sono provviste del processore Intel Core M5-6Y54 (Skylake) da 2.7 GHz, una webcam frontale da 5 MP e una fotocamera posteriore da 8 Megapixel. Non mancano inoltre lo slot per schede SD, il supporto per la penna Dell Active Pen, due porte USB Type-C con supporto Thunderbolt 3, l'adattatore per USB 2.0/USB 3.0 e i moduli di connettività Wifi 802.11ac dual band e Bluetooth 4.1.
[Via]